Common Hurdles
Cost of Initial Setup
Huge investment required to setup contact center as needed hardware and software are very costly.
Huge Cost to Operate
Cost of Hardware maintenance, providing required internet and power backup are very high.
Missing Insights
Missing insight to calling outcome reduces effectiveness of Control over call centre operations. This results in ineffective working.
Business Leakage
Due to data getting shared via Excel or Printouts, either the customers remain unserved or data becomes vulnerable.
Features of Kamate Raho App - Call Center Solution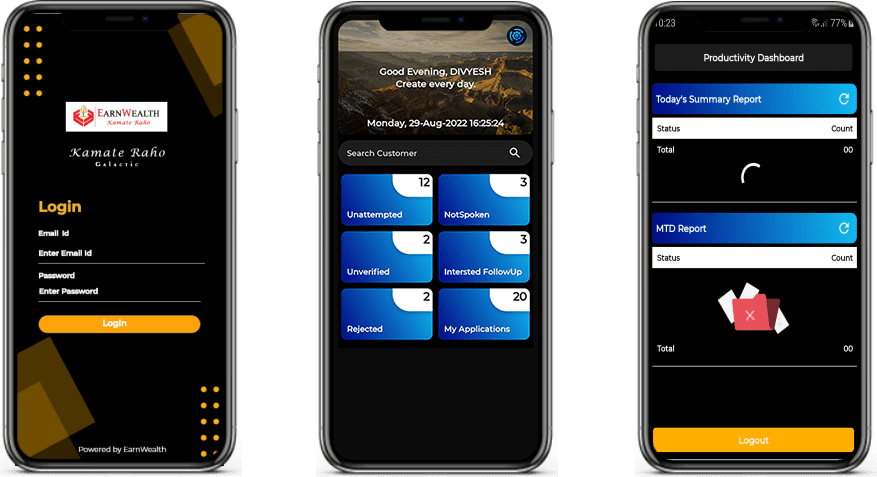 Why Kamate Raho ?
Zero Investment on CAPEX
No laptop and no desktop and it's saving more than 45K per caller.
Android Based Call Center solution
Android based mobile friendly CRM will allow you to work from anywhere and spend less for infrastructure.
SIM Based Calling
Minimum network requirement. It can work on phone network.
Realtime Reports & Analytics
Standard reports and analytic dashboards for deep analysis.
Advantages to Enterprise

Low cost to setup. KR App works on Android phone. Desktops or Laptops are not required

Multiple ways to integrate with parent system for lead injection

Tracks performance of callers and generates reports to monitor calling operations.
Pricing Plans
Basic
Starts from ₹ 500 per month agent which includes feature to bulk upload of data, assign callers and track. Minimum Commitment - 5 seats
Premier
For full features that include API integration, multiple levels of disposition, Script, Call logs etc. Price will be custom.